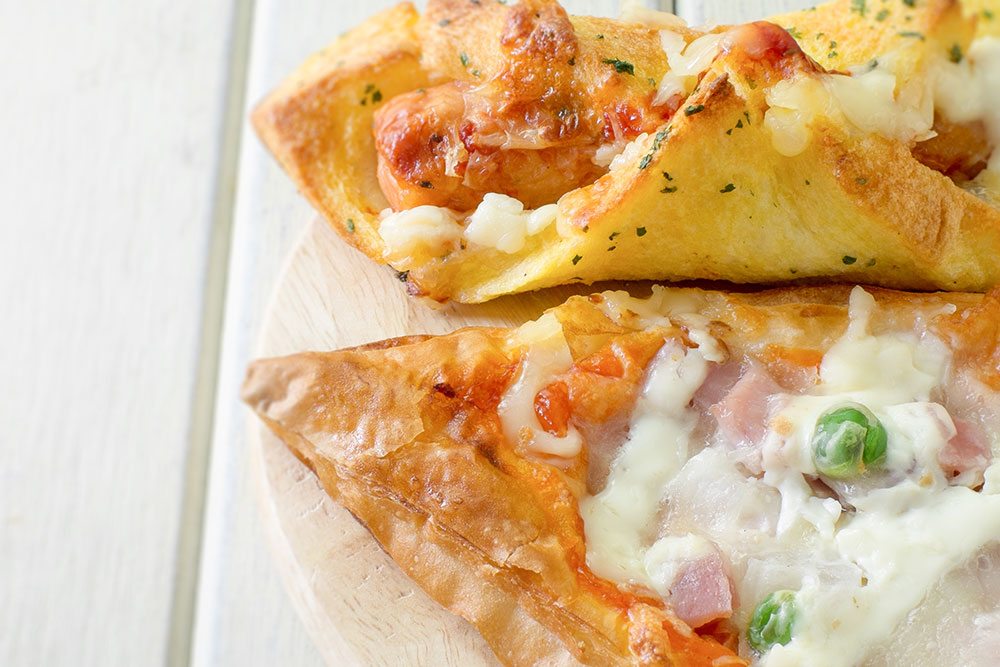 ---
It's not a casserole, it's a pizza.
Featuring one of these great Bacio products:
Directions
Ingredients
---
Ingredients
4 oz. roasted garlic cream sauce (recipe follows)
7 oz. Bacio® cheese, shredded
3 oz. country ham, cut into 1/2″ cubes
1 T. extra virgin olive oil
For roasted garlic cream sauce
2 T. extra virgin olive oil
Instructions
---
To prepare roasted garlic cream sauce: preheat oven to 375°.
Cut off the bottom quarter of each garlic head and place in tin foil. Drizzle with olive oil and season with salt and pepper. Roast in the oven for 30-45 minutes (or until the garlic is golden brown and very soft).
Melt butter in a sauce pan. Whisk in flour and cook for one minute, stirring constantly.
Whisk in milk and simmer until sauce thickens. Remove from heat and add roasted garlic cloves and Parmesan cheese. Puree mixture.
Stretch pizza dough and place on a screen or peel.
Spread garlic cream sauce over dough.
Top with Bacio cheese, peas and ham. Drizzle olive oil over the top.
Bake pizza until crust is golden brown and cheese begins to bubble.
Remove pizza from oven, sprinkle with freshly ground black pepper and fresh tarragon.