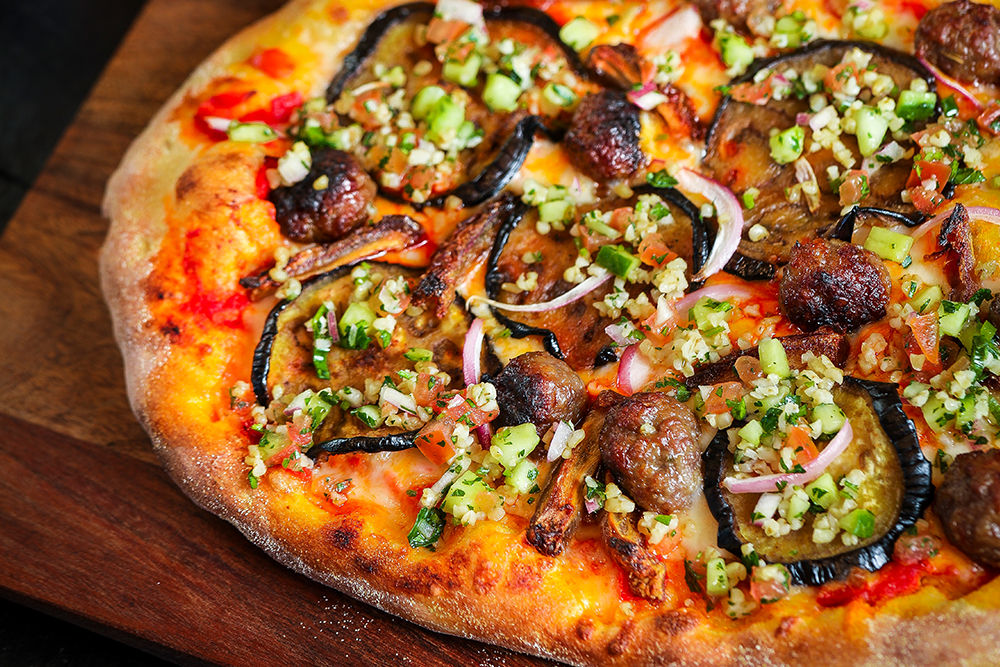 ---
Pizza topped with delicious Turkish meatballs and Tabbouleh.
Featuring one of these great Bacio products:
Directions
Ingredients
---
1 each, 14 in pizza dough
9 oz Bacio Whole Milk Cheese
3 oz Turkish Meatballs (see recipe)
5 oz, Tabbouleh (see recipe) (post bake)
Tabbouleh Ingredients
1 cup, diced cucumber (1 small-to-medium)
1 cup, diced tomato* (1 large)
1 teaspoon, fine sea salt, divided
3 medium bunches, curly parsley
⅓ cup (⅔ ounce), chopped fresh mint
⅓ cup, thinly sliced green onion
⅓ cup, extra-virgin olive oil
3 to 4 tablespoons, lemon juice, to taste
1 medium clove garlic, pressed or minced
Turkish Meatball Recipe
1 cup, fine fresh breadcrumbs
Instructions
---
Stretch pizza dough to 14"
Spread 4 oz Harissa sauce across dough, leaving about a 1" crust line
Cover sauced area with 9 oz of Bacio Provore™ cheese.
Top the cheesed area of the pizza with the rest of the toppings
Bake pizza until cheese is melted and dough is properly cooked.
For Tabbouleh
Boil 1 cup of water and pour over bulgur wheat and let steep until the bulgur wheat is tender. Once tender, remove water and cool down.
Combine all ingredients in a large mixing bowl, taste and add salt and pepper if needed
For Turkish Meatballs
In a large mixing bowl combine all ingredients.
Portion and roll into 3 oz meatballs