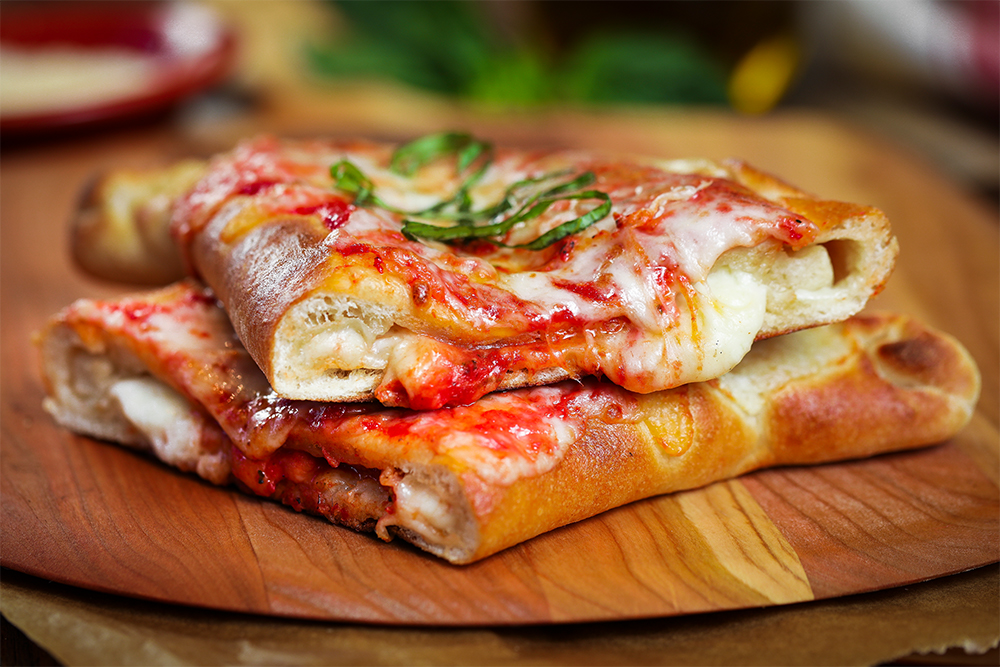 ---
Turn your pizza inside out with crescent shaped pizza dough stuffed with Bacio cheese, garlic chili oil, and basil.
Featuring one of these great Bacio products:
Directions
Ingredients
---
3 oz., Pizza Sauce (2 oz. inside, 1 oz. on top)
6 oz. Bacio Part Skim Shredded Cheese (4 oz. inside, 2 oz. on top)
1 oz., Garlic Chili Oil (see recipe)
1 oz., Fresh Basil (post bake)
Garlic Chili Oil Ingredients
4 cloves, Fresh Garlic (minced)
Instructions
---
Stretch pizza dough to 14".
On one side of the dough, brush 1 oz. of the Garlic Chili Oil.
Spread 2 oz. of pizza sauce over the Garlic Chili Oiled dough.
Sprinkle 4 oz. of Bacio Part Skim Cheese on the sauced area.
Fold the dough over and enclose the seam like you are making a calzone.
Using a pointed tool, poke holes in the cavity of the calzone to score the dough.
Par bake at 500ºF for 7 minutes.
Put the remaining sauce and cheese portion on top and bake until cheese is fully melted and dough is appropriately colored.
Garnish with fresh basil leaves.
For Garlic Chili Oil
In a large mixing bowl, combine minced garlic, chili flake, and olive oil.
Season with salt & pepper and store at room temp in a closed container.