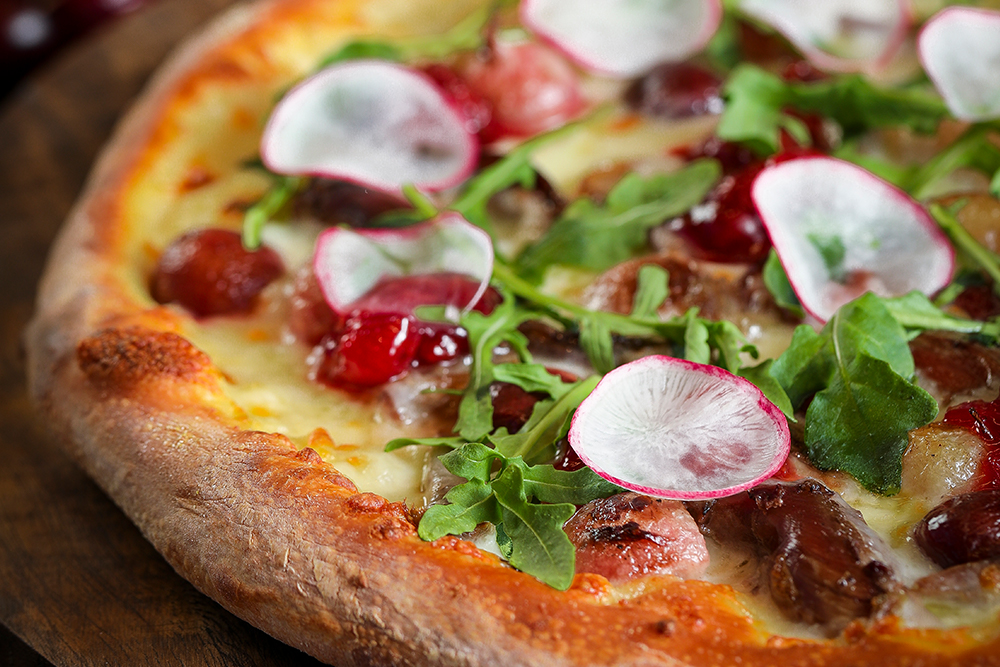 ---
Elevate your pizza with delicious duck confit, sweetened with cherry marmalade.
Featuring one of these great Bacio products:
Directions
Ingredients
---
1 each, 14 in pizza dough
9 oz Whole Milk Bacio Shredded Cheese
3 oz Duck Confit (see recipe)
2 oz, Cherry Marmalade (post bake)
1 oz, Sliced Radish (post bake)
2 oz, Fresh Arugula (post bake)
Duck Confit Ingredients
Cherry Marmalade Ingredients
2 pounds, Pitted Cherries
½ cup, White Balsamic Vinegar
Instructions
---
Stretch pizza dough to 14"
Spread 4 oz White Pizza Sauce across dough, leaving about a 1" crust line
Cover sauced area with 9 oz Bacio Whole Milk Cheese
Place Duck Confit, Cherries, and Roasted Radish on cheesed area of dough
Bake pizza until cheese is melted and dough is properly cooked.
Finish with sliced radishes, cherry marmalade, and fresh arugula.
For Duck Confit
Heavily season duck legs with salt & pepper, cover with plastic wrap and place in fridge overnight.
Rinse duck legs and place duck legs in oven proof pan submerged in duck fat.
Set oven to 300 degrees and cook duck legs for 3 hours or until fork tender.
For Cherry Marmalade
Combine all ingredients in a sauce pot and cook on medium heat until mixture turns into a thick jam like consistency. Then let cool.