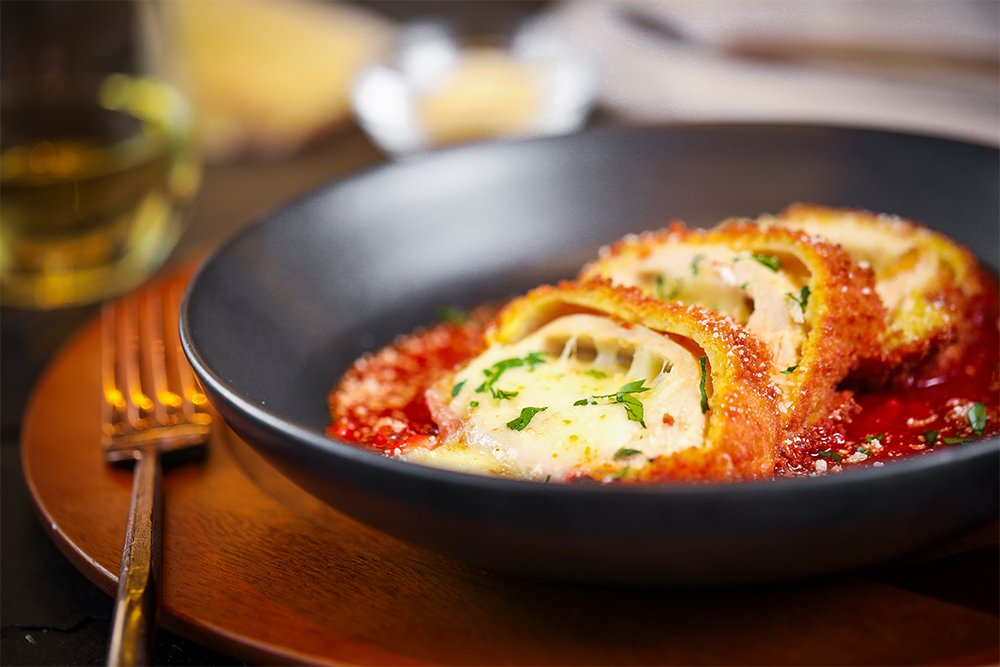 ---
A twist on an American classic – chicken parmesan stuffed with Bacio cheese.
Featuring one of these great Bacio products:
Directions
Ingredients
---
2 ea., Large Boneless Skinless Chicken Breast
4 oz., Bacio Whole Milk Cheese (cut into 6" x 1" sticks)
As needed, Parsley, Granulated Garlic, and Salt
Instructions
---
Take a sharp knife and make an incision into the thick part of the breast all the way through the chicken breast without poking a hole through.
Using your index finger, run your finger through the incision and try to stretch out the cavity to fit more cheese.
Take 2-3 sticks of Bacio Whole Milk Cheese and stick them into the cavity inside the chicken breast.
Get 3 different bowls and put the flour in one, beaten eggs in the other and in the last bowl, combine the breadcrumbs, parsley, garlic, and salt.
Take a cheese filled breast and dust it in the flour bowl, dip in into the eggs and cover it in the breadcrumb mixture.
Fry the breast in 350ºF oil until golden brown. Make sure you temp the chicken breast. You may need to finish cooking the chicken in the oven until chicken has reached an internal temperature of 165ºF.
Slice the breast and serve with your favorite tomato sauce.