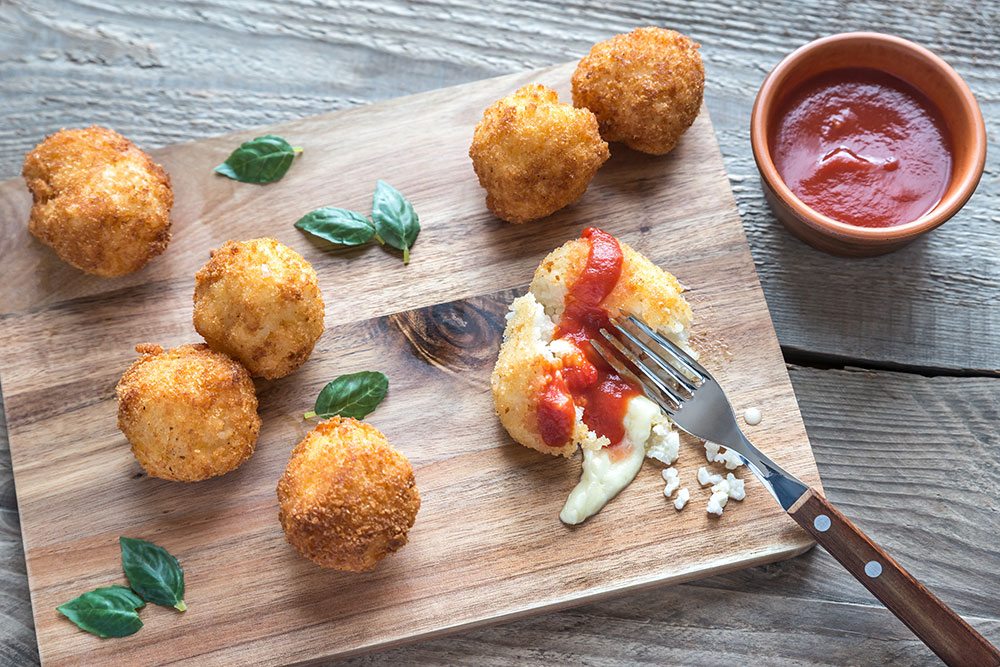 ---
A sophisticated take on the cheese popper – crunchy on the outside, gooey on the inside.
Featuring:
Directions
Ingredients
---
4 oz. prosciutto, finely chopped
½ c. parmesan cheese, grated
1 ½ cups panko bread crumbs
4 oz. Bacio® cheese, block, cut into 1/2 – 3/4″ cubes
Instructions
---
Heat the vegetable oil in a large saucepan over medium heat, add onion and garlic. Cook, stirring constantly until onion begins to brown.
Add the rice, and continue to cook for about 2 minutes.
Deglaze with white wine and continue cooking and stirring until the liquid has been absorbed.
Add chicken stock to the rice (4 ounces at a time), stir constantly until the liquid has been absorbed. Continue adding chicken stock (in 4 ounce batches).
Once all of the chicken stock has been absorbed and the rice is tender, stir in the Prosciutto and season with salt and pepper.
Remove from the heat, stir in Parmesan cheese. Transfer the risotto to a sheet tray and allow to cool.
Once the risotto is cool, fold in the beaten egg.
In a small bowl, whisk together the whole egg and milk. Place flour and panko bread crumbs in separate bowls and set aside.
Roll about 2 tablespoons of the risotto into a ball. Press a piece of Bacio cheese into the center, and roll risotto around the cheese to enclose. Place on a sheet tray and repeat with remaining risotto.
Working in small batches, coat the risotto balls with flour, dip into the egg mixture, then toss in panko to coat.
Heat deep-fryer to 350 degrees F (175 degrees C). Fry Arancini in small batches until evenly golden brown and heated throughout. Drain on paper towels, season with salt and pepper and serve hot.