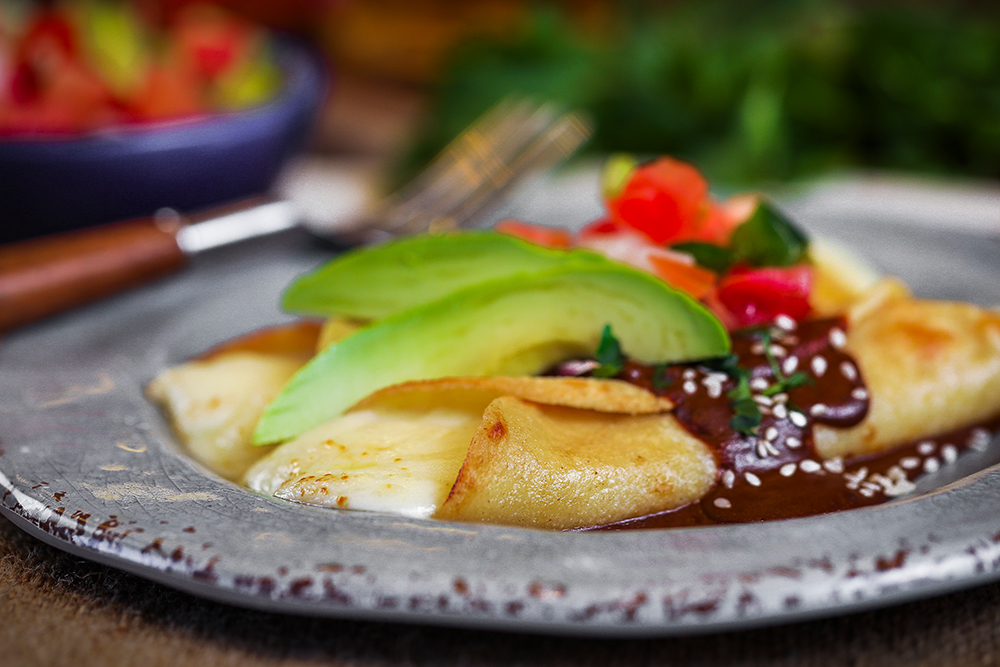 ---
A traditional wrap from Puebla, Mexico.
Featuring one of these great Bacio products:
Directions
Ingredients
---
16 oz., Dark Mole (see recipe)
12 ea., Bacio Whole Milk Cheese Block (cut into 6" x 1" sticks)
As needed, Sliced Red Onion
Mole Recipe
1 or 2 ea., Dried Ancho Chilis
3 Tbsp, Roasted Garlic Flakes
2 tsp, Dried Mexican Oregano
1 tsp, Ground Ceylon Cinnamon
3 Tbsp, All Purpose flour
4-1/2 cups, low sodium chicken broth
Instructions
---
Lightly griddle the tortillas and wrap in a towel to stay warm.
Take a Bacio® cheese stick and wrap it in a tortilla then place in an oven safe casserole dish.
Once all the tortillas have been filled, poor the mole sauce over the enchiladas.
Bake until cheese is melted and heated all the way through.
Served with sliced red onions and sesame seeds as a garnish.
For Mole
In a skillet, heat the olive oil and add onions and chopped chiles on medium heat, sauté until soft.
Add spices (garlic through paprika) cover and cook until spices are incorporated and become fragrant.
Add cinnamon, flour, cacao and flour and stir for about 3 minutes - sauce will be somewhat pasty.
Add chicken broth and bring heat to high and reduce heat once sauce starts to boil.
Cover and simmer, stirring occasionally for about 20 minutes.
Remove pan from heat and gradually add chocolate, stirring to incorporate. Chocolate will melt and sauce will be thick with a creamy-like texture.