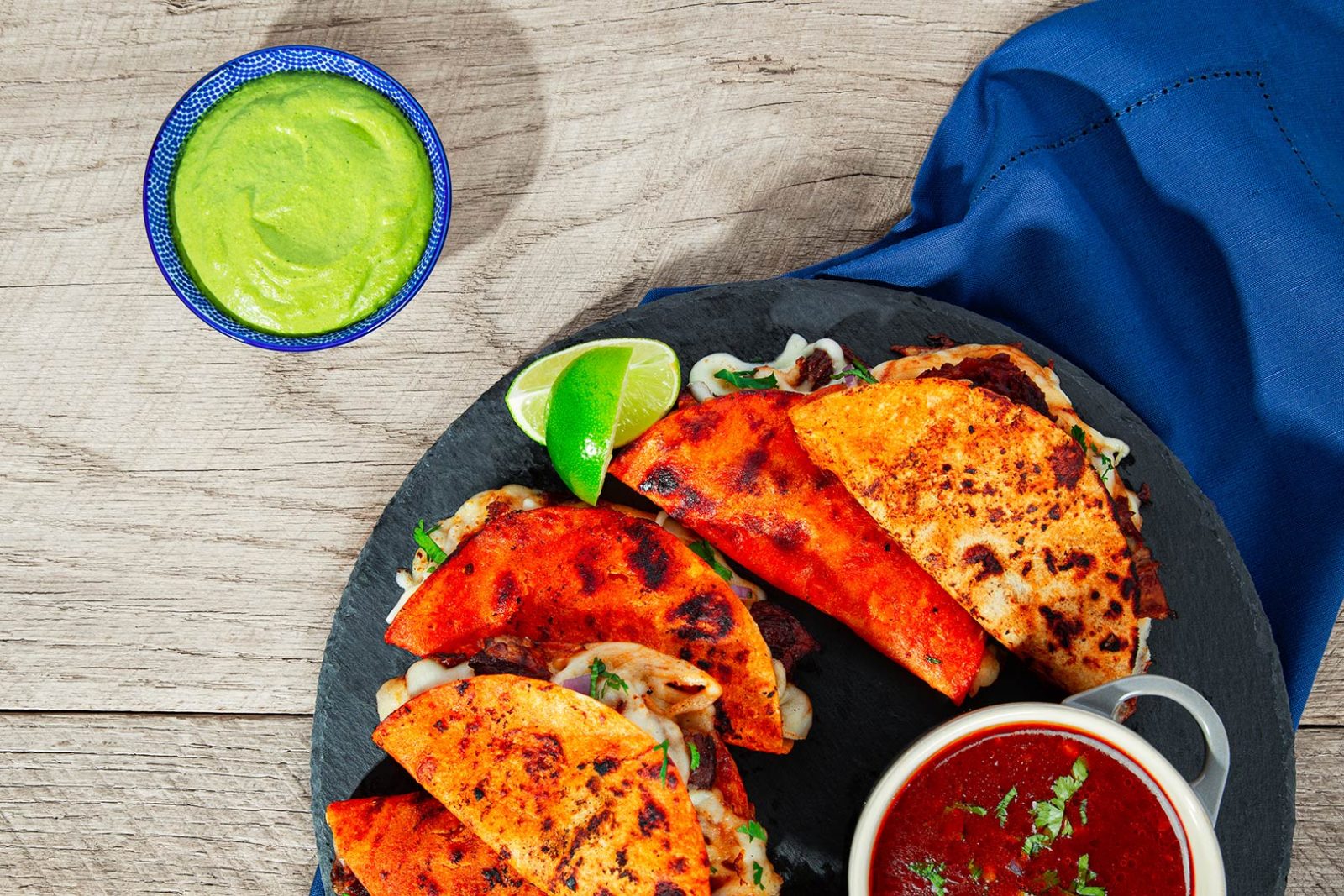 ---
Indulge in Birria QuesoTaco Bliss: Slow-cooked Birria Beef, Crispy Corn Tortillas, and Melted Bacio Cheese.
Featuring this great Bacio product:
Bacio Whole Milk Part Skim Shredded Cheese
Directions
Ingredients
---
Quesotacos Ingredients
1-2 oz, Bacio Whole Part Skim Shred
2 oz, Birria Beef (see recipe)
1 pinch, Chopped Cilantro
1 pinch, Minced Red Onion
Birria Beef Ingredients
5#, Beef Short Ribs or other braising cut
Instructions
---
Quesotacos
Heat a medium skillet on high heat.
Dip your tortillas in the Birria broth and place them directly on the skillet.
Immediately top each tortilla with cheese, beef, onions, and cilantro.
Cook these tacos until the tortillas are crispy and the cheese is melted.
When ready, fold the tortillas in half and pull the tacos from the skillet.
Serve the tacos with cups of broth for dipping and garnish with lime wedges.
Birria Beef
Cut the stems off the dried chilis and remove the seeds.
Season the beef with salt and pepper and brown heavily in a flat-bottomed pan.
Remove the beef and add the onions, chilis, and garlic to pot. Brown these ingredients until onions are translucent and charred.
De-glaze the pot with beef stock and cook the chilis and onions in pot until tender.
Remove onions, garlic, and chili from the pot and blend in a blender with roughly 1 cup of beef stock.
Strain the blended chili mixture back into the pot and add the short ribs to the mixture.
Cover the pot with foil and place in a 325F oven until beef is for tender. This should take roughly 5-6 hours.