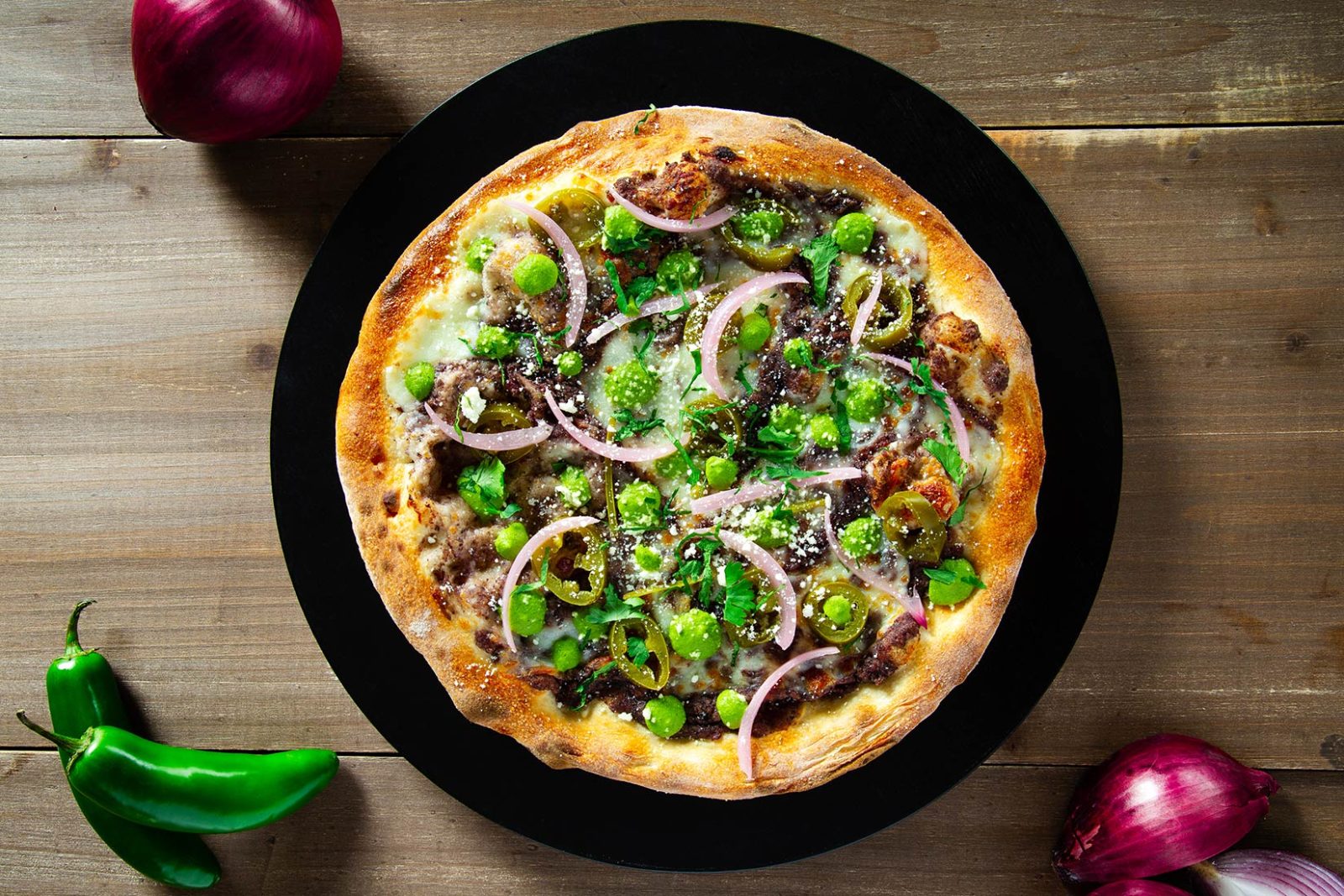 ---
Experience a flavor-packed fiesta with our Baleada Pizza!
Featuring refried black beans, creamy Bacio part skim cheese, tangy pickled jalapenos, zesty pickled onions, poblano crema, queso fresco, and fresh cilantro. It's a cheesy, spicy, and savory delight.
Featuring this great Bacio product:
Directions
Ingredients
---
Pizza Ingredients
3 oz, Refried Black Beans (see recipe)
7 oz, Bacio Part Skim Block (see Notes)
3 oz, Pickled Jalapenos (post bake)
2 oz, Pickled Onion (post bake)
2 oz, Poblano Crème (post bake)
1 oz, Queso Fresco (post bake)
1 oz, Chopped Cilantro (post bake)
Poblano Crema Ingredients
Refried Black Beans Ingredients
1 ea, Yellow Onion, Minced
2 ea, Garlic Cloves, Minced
Instructions
---
Pizza
Stretch dough ball to 14".


Spread Refried Black Beans on dough as the sauce and spread Bacio Block pieces over the sauced area on dough.

Bake pizza until desired bake is achieved.

Finish pizza with Pickled Jalapenos, Pickled Onions, Poblano Crema, Queso Fresco, and Chopped Cilantro.
Poblano Crema
Combine all ingredients in blender and blend until smooth.
Refried Black Beans
Add onions, garlic, and beans to oil and fry beans until they start breaking down.
Mash all ingredients until a mashed potato consistency is achieved.
Notes:
Take Bacio block and slice the block into ¼" slices then pull those slices into smaller chunks to top your pizza. When the pizza bakes these chunks of cheese will melt and give the pizza a similar visual experience to a pizza topped with fresh mozzarella.